Alpha
We've been running Alpha courses at St. Luke's since 'the turn of the century', in other words since the year 2000.  During that time courses have varied in numbers but we're not in the numbers game.  Two courses ran with only ONE person as a guest with others coming from the church, but oh what a joy to see the difference it made to those persons' relationship with God!
So what's it all about?  It's simply coming together to learn about the basics of the Christian faith.  Yes, the basics – answering the sort of questions people ask when we meet them at work, in the pub, in our families:
"Who is Jesus?"
"How and why should I read the Bible?"
"How and why should I pray?"
"Does God heal today?"

Our friends, some from other religions, are asking these questions and they deserve positive, honest answers based on facts.  The Christian church is growing on a global scale – the fast-developing nations are hungry for knowledge and new churches are springing up in the most remarkable places.  An Alpha course has even been held in Saddam Husein's old palace in Baghdad.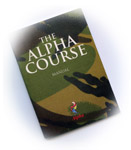 The Alpha course is used by all Christian denominations because 'the basics' are the same.
Alpha courses are held regularly for military personnel in various parts of the world; they are held in prisons; they are available for everyone, no matter what age or where you're hiding!! 
The Alpha course begins with a meal together and afterwards addresses the comment; "Christianity – boring, irrelevant, untrue."  That gets us off to an interesting start, as you may imagine!
Then we split up into small groups of friends and meet once a week in convenient places, our homes, in - - - wherever we are comfortable.  It's a very friendly, 'no questions off limits' approach.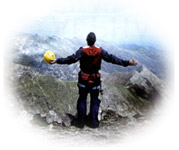 Quite laid back,, some would say, but oh so relaxing  and revealing as we get to the 'nitty-gritty' of our beliefs in confidential discussion with new friends.  We discover that often they have the same questions as us!  "I didn't realise it was like this!" is often said during the course.
The Chief Scout, Bear Grylls, is a strong supporter of Alpha.

It's enjoyable, it's fun, it's non threatening, because we soon realise that, no matter what, - God loves us and wants a real  personal relationship with us.
"Who – me?  You don't know what Iv' e been up to in my life!  No chance!"
Chance doesn't come into it. 
The fact is, HE DOES and still thinks you're great!
Learn even more on www.alpha.org.uk and how it's running in over 70 countries globally.  It's truly amazing!
Like to know more about Alpha at St. Luke's in Formby?
Use the contact page, and your message will be forwarded to Bob, our Alpha organiser. Our courses begin in September and January each year.