Tuesday tea club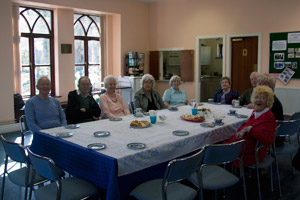 The tea club meet most Tuesday afternoons between 2.00 and 4.00 pm. It provides an informal time when people can meet and share fellowship. Normally it has no fixed agenda and people are free to come and go as they wish.
The tea club is not a club in the normal way for it does not have a formal membership. It is open to anyone who wants to attend. Quite often people who are passing by, walking groups or dog walkers for example, will drop in for refreshment.
There are some occasions when a talk is given to the people attending - see above. These occasions are advertised in advance and are very well attended.
It is sometimes possible to gain access to the church from the tea club.